The Top 10 Workout Songs for January 2014
GET UPDATES FROM Chris Lawhorn
The Top 10 Workout Songs for January 2014
Posted: 01/11/2014 10:17 am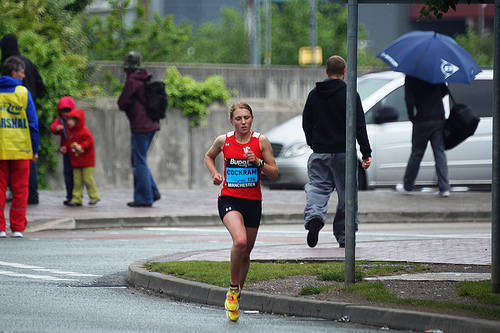 Flickr:
Stuart Grout
Kicking off the new year is an eclectic bunch of workout jams. Pharrell Williams turns up with a jaunty number for which he filmed a 24-hour long music video. The band American Authors continues a climb up the charts with a song you might know best from a Lowe's commercial. Finally, Lady GaGa and Bastille return to the monthly top 10 in a pair of remixes.
Here's the full list, according to a poll on Run Hundred — the web's most popular workout music blog.
Pharrell Williams – "Happy" – 160 BPM
The Wanted – "We Own The Night (Chainsmokers Edit)" – 126 BPM
Lady GaGa – "Applause (DJ White Shadow Trap Remix)" – 141 BPM
Duck Sauce – "Radio Stereo" – 130 BPM
Little Mix – "Nothing Feels Like You" – 126 BPM (not available on Spotify)
American Authors – "Best Day of My Life" – 100 BPM
Avicii – "Hey Brother" – 125 BPM
Echosmith – "March into the Sun" – 145 BPM
Armin van Buuren & Trevor Guthrie – "This is What It Feels Like" – 130 BPM
Bastille – "Pompeii (Kat Krazy Remix)" – 129 BPM
Check out this month's top 10 workout songs on Run Hundred: www.RunHundred.com.
For more by Chris Lawhorn, click here.
For more from HuffPost Workouts, click here.